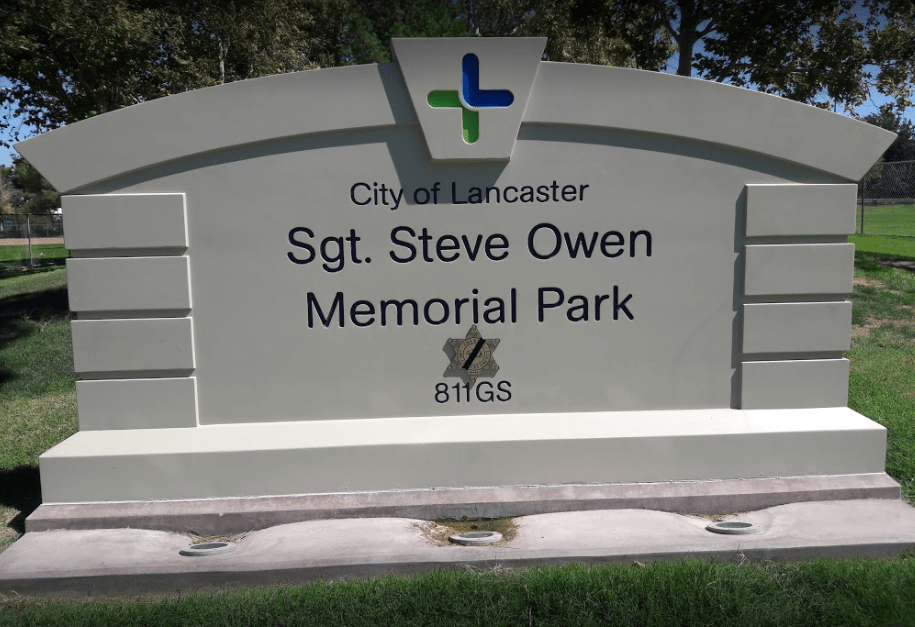 12 Mar

Barger allocated $245,000 for Steve Owen Memorial Park Plaza Project in Lancaster

LOS ANGELES COUNTY – The Board of Supervisors approved a motion by Supervisor Kathryn Barger to allocate $245,000 to the City of Lancaster to fund the Sergeant Steve Owen Memorial Park Plaza Project.

On October 5, 2016, Sergeant Steve Owen was fatally shot in the line of duty after responding to a burglary-in-progress call in Lancaster. His contributions to law enforcement and the local community live on through his namesake park, formerly named Lancaster City Park.

"This plaza will be a meaningful tribute to honor the memory of Sergeant Steve Owen," Supervisor Kathryn Barger said. "I am grateful for the sacrifices made by law enforcement to protect our communities and I am appreciative of these opportunities to pay homage to their service."

The project involves the construction of a memorial plaza, including the installation of an equine statue, landscaping and irrigation, and pavement. Construction will be fully funded with Proposition A Excess Funds from the Fifth Supervisorial District.

"We appreciate the support of Supervisor Kathryn Barger in saluting our fallen officers in the line of duty," said John Wicker, Director of Los Angeles County Parks and Recreation. "We hope this plaza will serve as a place for the community to remember Sergeant Steve Owen."

The new memorial will be the latest feature of the 63-acre park, which is a hub of community activity and offers an activity center, playground, numerous sporting facilities, and picnic grounds.