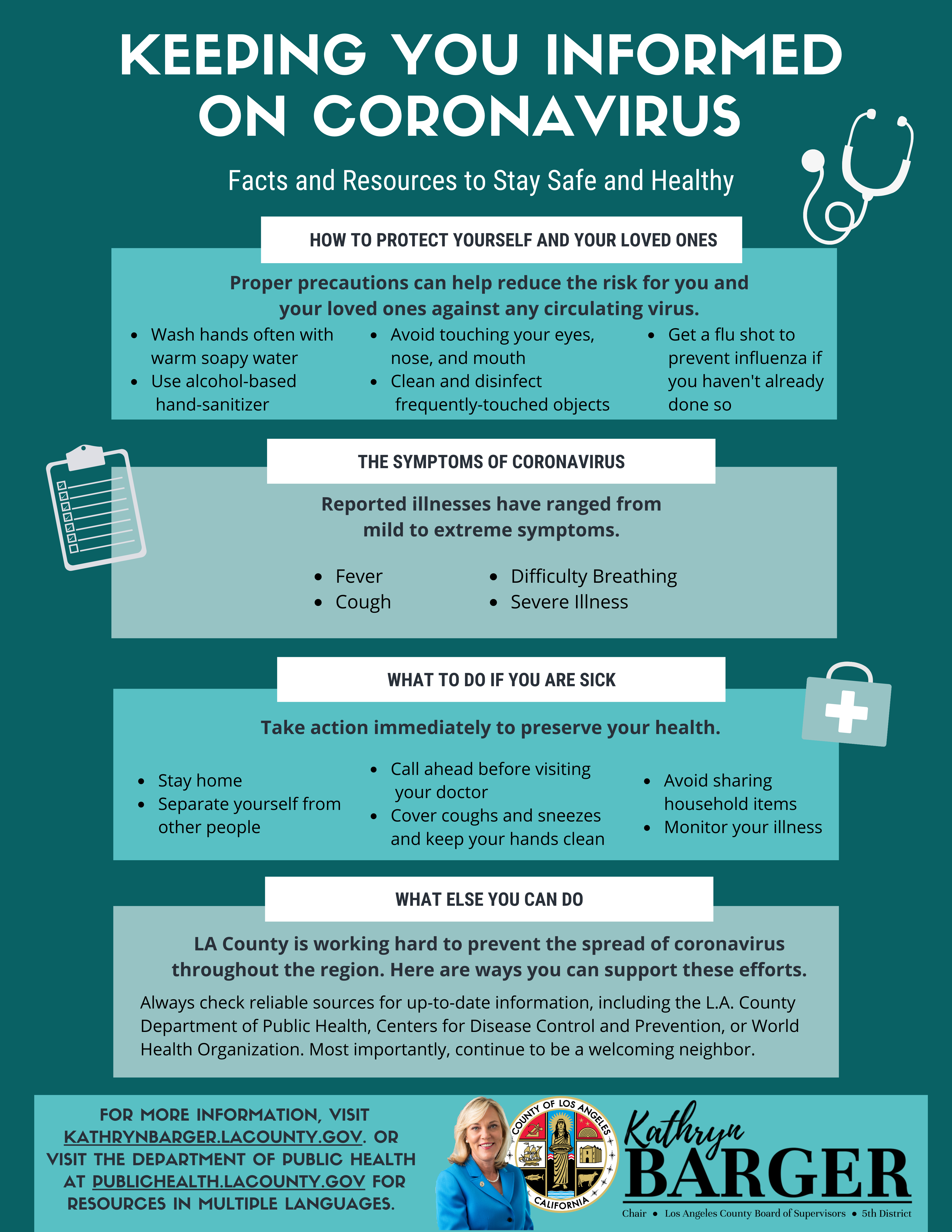 04 Feb

Updates on coronavirus: Information and Instructions

Supervisor Kathryn Barger, Chair of the Los Angeles County Board of Supervisors, hosted a call with Los Angeles Mayor Eric Garcetti to provide the mayors and leaders of the 87 cities within Los Angeles County with an update regarding the novel coronavirus.

The purpose of the call was to share new information from the Los Angeles County Department of Public Health and provide guidelines issued by the Centers for Disease Control (CDC) to protect residents and communities.

"Mayor Garcetti and I are working together to serve as a resource and share pertinent public health information to help inform city and community leaders, residents, health care professionals and first responders," Supervisor Barger said. "Through the County Department of Public Health and our 2-1-1 hotline, we want to widely share data concerning those impacted and provide necessary guidelines to protect further spread of the virus. It's important that we dispel misinformation and quell unnecessary panic."

Currently, the Los Angeles County Department of Public Health is taking the following actions regarding coronavirus:

• Assisting the Centers for Disease Control and Prevention (CDC) to safely transport travelers arriving in LAX from China who need to be quarantined (quarantine is held at March Air Force Base in Riverside County);

• Working with local healthcare providers around screening and treatment of individuals with suspected cases of novel coronavirus.

• Coordinating with schools, colleges and universities to ensure compliance with guidelines that excludes newly arriving travelers from China from public settings, including schools, for 14 days from their last exposure.

• Establishing protocols for monitoring the health of U.S. citizens and their family members returning from China who are in L.A. County and need to remain in their homes for up to 14 days.

• Continued monitoring of all people identified as close contacts of any confirmed cases to assess health status, and, where appropriate, issue exclusion requirements in accordance with the CDC.

The Department of Public Health has released detailed information on its website regarding the novel coronavirus that can be found here.

In addition, Supervisor Barger has asked Dr. Ferrer to present to the Los Angeles County Board of Supervisors at its February 4th meeting with another update on the impact to Los Angeles County.