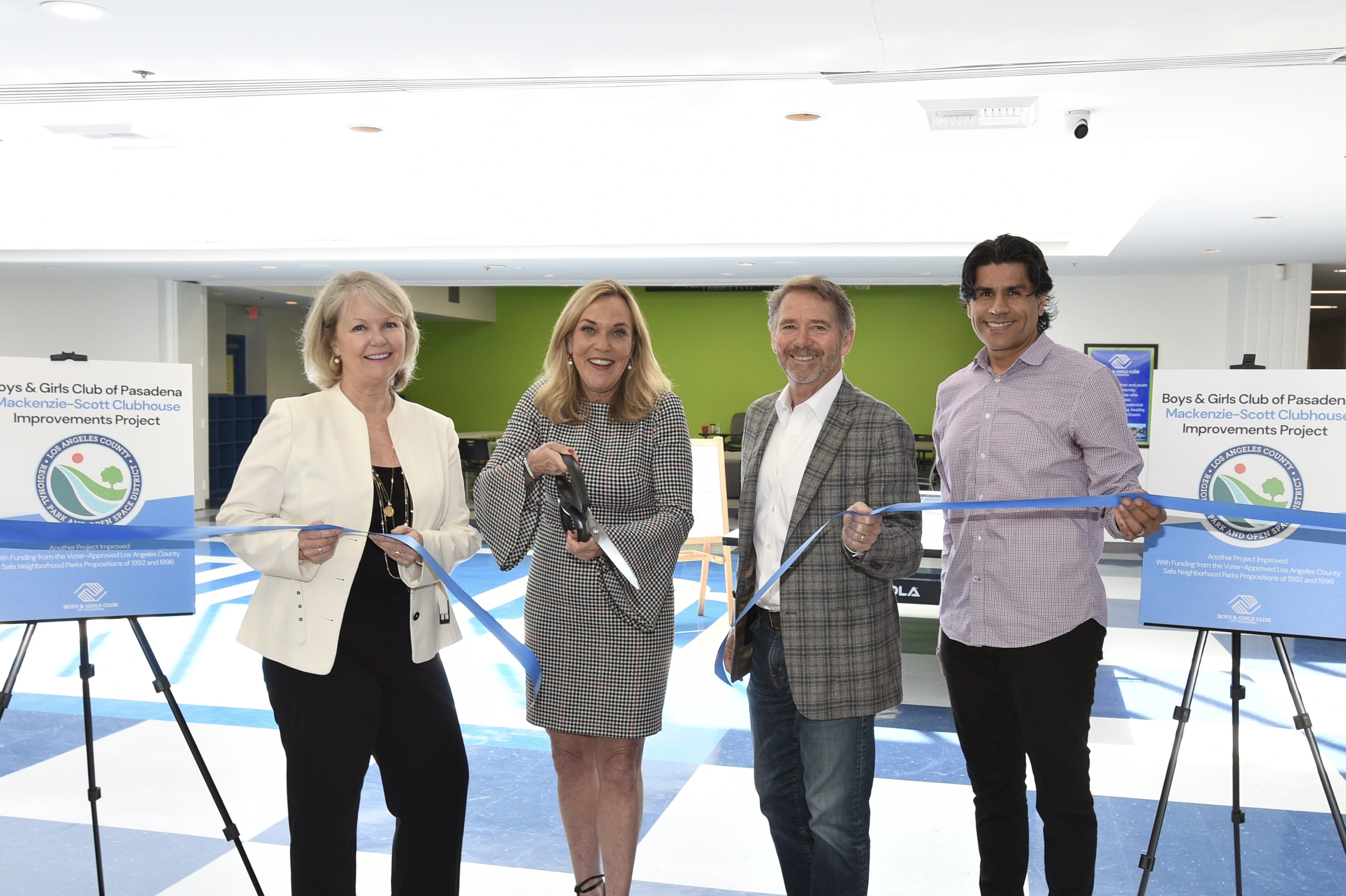 30 Mar

Barger Funds Boys & Girls Club of Pasadena Clubhouse Renovation, Celebrates Completion

Today, Los Angeles County Supervisor Kathryn Barger attended a ribbon cutting ceremony at the Boys & Girls Club of Pasadena to celebrate the completion of its Mackenzie-Scott Clubhouse renovation. The project was made possible by Supervisor Barger's allocation of $135,000 in Proposition A funds.

"Since its founding in 1937, the Boys & Girls Club of Pasadena has been a beacon of hope and stability in children's lives," Supervisor Barger said. "Every community's youth deserves access to an environment like the Boys & Girls Club – one that promotes academic success, healthy habits and connections to caring adults. If we want our children to reach their full potential as future responsible and productive citizens, we must invest in programs like this one." 

Lisa Cavelier, Chief Executive Officer of the Boys & Girls Club of Pasadena, said the funds Supervisor Barger allocated will have a direct impact on the Club's efforts. 

 "The Boys & Girls Club of Pasadena is incredibly grateful to Supervisor Barger and Los Angeles County for helping to fund the interior renovations of our northwest Pasadena facility," Cavelier said. "It's been a long time coming, and now we feel we can serve all kids in the Pasadena area in an updated and beautiful building. This renews our energy around impacting the trajectory of kids' lives, which is what we do best." 

The Boys & Girls Club of Pasadena offers a year-round program in its Mackenzie-Scott clubhouse, which has provided more than 250,000 children with a safe and nurturing place to call their own. The interior renovations made to the clubhouse address safety issues and include updating electrical systems, replacing worn flooring, resurfacing gym walls, repairing ceiling tiles and adding a fresh coat of paint. 

A ribbon cutting ceremony was hosted this morning to commemorate the event at the clubhouse, which is located at 2020 North Fair Oaks Avenue in Pasadena. Pictures of the ribbon cutting can be accessed here. For more information on the Club's programs, visit their website.