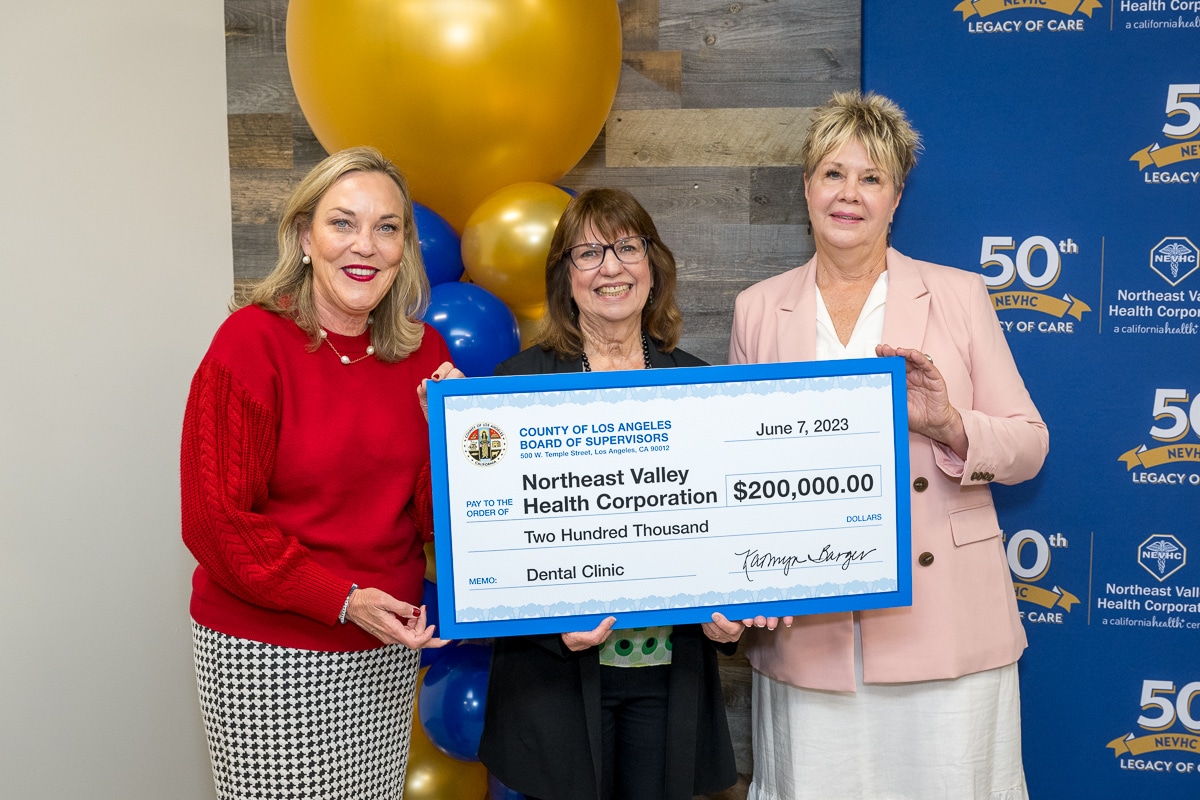 07 Jun

Barger Boosts Health Care in Santa Clarita Valley, Presents $200K Check to New Dental and Wellness Center

Today, Los Angeles County Supervisor Kathryn Barger joined officials from the Northeast Valley Health Corporation (NEVHC) to celebrate the grand opening of their new Santa Clarita Valley Dental and Wellness Center.

This new location replaces the dental clinic which burned down in June 2022 and will provide healthcare services for all, including individuals who lack medical insurance or are under-insured. It will also be the only clinic that offers full-scope dentistry services locally. 

"This state-of-the-art facility is an important new asset for the Santa Clarita Valley community," said Supervisor Kathryn Barger. "It will be a one-stop-shop for a wide variety of healthcare services and remarkably will not turn anyone away. I am a proud supporter and applaud NEVHC for holistically tending to the healthcare needs of the underserved."

During the grand opening ceremony, Barger presented a $200,000 check to NEVHC Chief Executive Officer Kim Wyard in support of Santa Clarita Dental and Wellness Center's services. "We truly appreciate Supervisor Barger's contribution and support," Wyard stated. "Making a commitment to offer accessible healthcare services for everyone is a big lift – no organization can accomplish that alone. By working together, we can and will make a difference!" 

Spanning over 13,000 square feet, the facility is equipped with 12 dental procedure rooms and four examination rooms which will accommodate about 20,000 visits in the first year. About 1,000 of those visits are expected to be new patients.

The Santa Clarita Valley Dental and Wellness Center will also provide behavioral health services to help individuals of all ages afflicted with mental health and substance use disorders. 

"These life-saving services are invaluable," stated Supervisor Barger, who is championing accessible mental health and addiction support services at national and local levels of government. "Addiction can quickly lead to a downward, life-altering spiral. The support offered by the Center's behavioral health professionals will anchor and stabilize many who wouldn't be able to afford or access help."

The Santa Clarita Valley Dental and Wellness Center will be located at 17909 Soledad Canyon Road, Santa Clarita, CA 91387. For more information, visit nevhc.org.

Photos of the grand opening ceremony and check presentation are available here.